Unlock the Full Potential of Your Garage with GarageBook
Ultimate Garage Manager Software for Workshops and Garages

Get Your Free Trial




Facebook


Twitter


Instagram


Youtube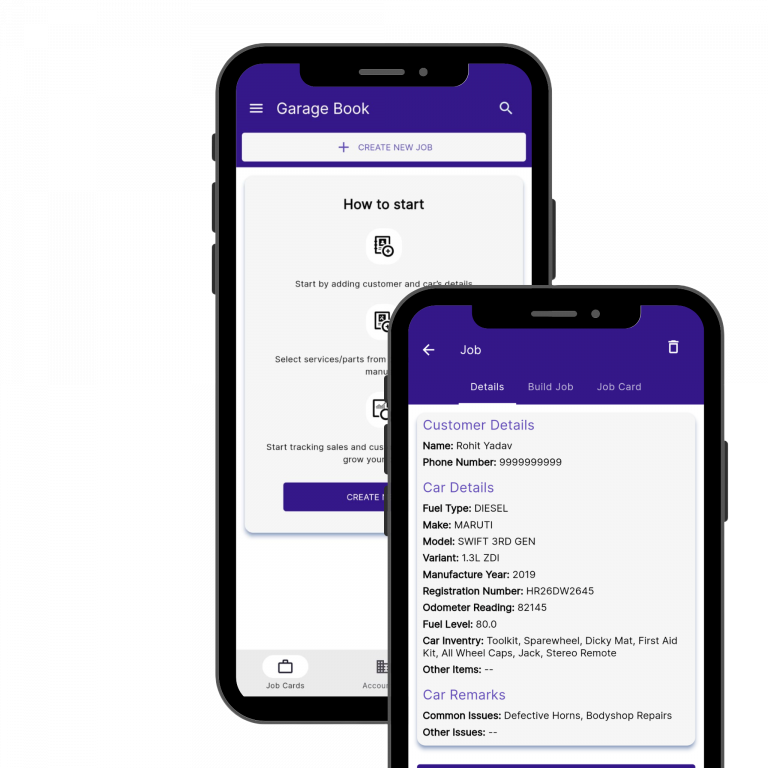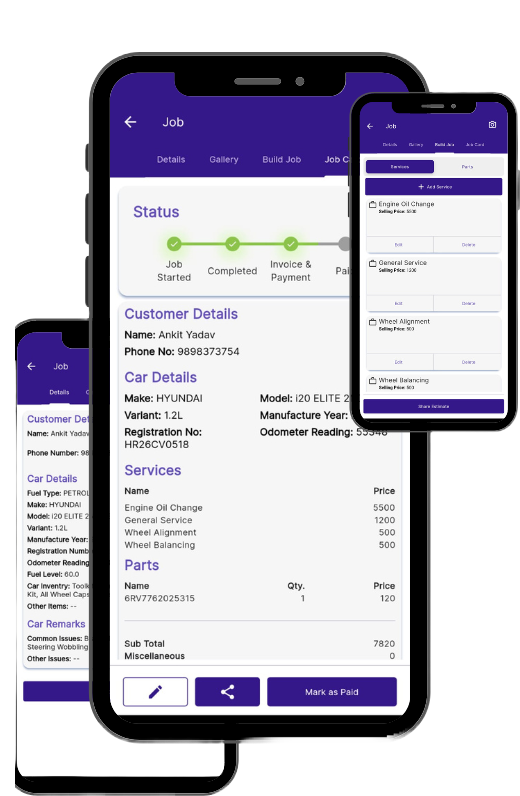 GarageBook's Job Card
Revolutionize Your Garage Operations!
GarageBook's Job Card feature is designed to simplify your garage operations and enhance customer satisfaction. From capturing essential details to managing service statuses and generating professional invoices, our app empowers you to run your garage smoothly and efficiently.
Enter customer and car details, and document service milestones with photos.
Track service types accurately, from general maintenance to complex repairs.
Add parts and spare for the required service and manage inventory with ease
Seamlessly monitor job progress with status updates and streamlined invoicing.
Accounting Simplifying
Simplify Your Garage's Finances with Accounting
Effortlessly manage your garage's finances with GarageBook's Accounting feature. Gain an overview of customer and sales data, filter by date and payment status, and access detailed information for informed decision-making.
Easy Accounting

Empowering Your Garage's Financial Success
Powerful CMS

Streamline Garage Operations with a Powerful CMS.
Job Cards

Simplify Garage Operations with Efficient Job Management.
GarageBook
Unlock the Potential of Your Garage with GarageBook's Innovative Management Software
GarageBook's innovative management software empowers you to unleash the full potential of your garage. From efficient job card creation and seamless customer management to hassle-free accounting and professional invoicing, GarageBook revolutionizes your garage operations for enhanced productivity and customer satisfaction.
0
K+
Total Downloads
0
+
Total Garages
0
+
Features
0
+
Diet Menus
Get You GarageBook Demo
Phone
+91 82873 89214
What will you get
In the free demo of GarageBook, you'll experience our powerful garage management app firsthand. Discover features like digital job cards, customer management, service tracking, and professional invoicing. Our team will guide you through the demo, showcasing how GarageBook streamlines operations and boosts your garage's success. Unleash the potential of your garage with GarageBook's free demo.